Iberdrola Forest Defence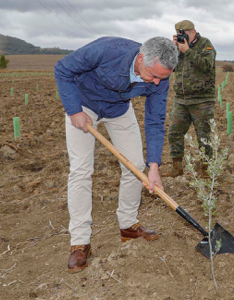 Iberdrola signed in 2018 a collaboration agreement with the Ministry of Defense and the General Directory of Infrastructures for the development of joint initiatives for the improvement, protection, and preservation of the environment in different areas. One of the areas of action highlighted was to preserve the natural environment. To this end, these entities agreed to develop a program for the reforestation of the military maneuvering fields owned by this ministry. Iberdrola, through its Foundation, oversees the carrying out of these works in the lands selected by the administration, with the commitment to undertake one every year.
Fundación Iberdrola España is developing this initiative with several reforestation projects in army maneuvering and firing ranges. Since the signing of the agreement with the Ministry of Defense, the Renedo-Cabezón (Valladolid) and Sierra del Retín (Cádiz) fields have been inaugurated, and currently the Chinchilla field in Albacete. In addition, it has led to the reforestation of the Abies Pinsapo species in the Biosphere Reserve and the Grazalema National Park.
Commitment to decarbonization
Iberdrola started a profound transformation of its business model over 20 years ago, when it opted for a sustainable, safe, and competitive energy model, which would allow it to undertake the fight against global climate change.
Nowadays, Iberdrola group is a benchmark in the fight against climate change – 13th objective of the Sustainable Development Goals (SDG) – and, alongside the group's strategy and commitment to reducing its emissions, the company has continued to add renewable capacity during the first half of 2021.
In Spain's specific case, 90% of last semester's production has been emission-free and 80% at the global level, without a single megawatt/hour produced with carbon between April and June. In countries such as the United Kingdom, Germany, or Portugal, Iberdrola already generates 100% zero-emissions energy.