Altius Foundation
Fundación Iberdrola España and the Altius Foundation collaborate on the creation of a project to train women in the STEM – ICT field.
The project will be funded with €25,000 by Fundación Iberdrola España.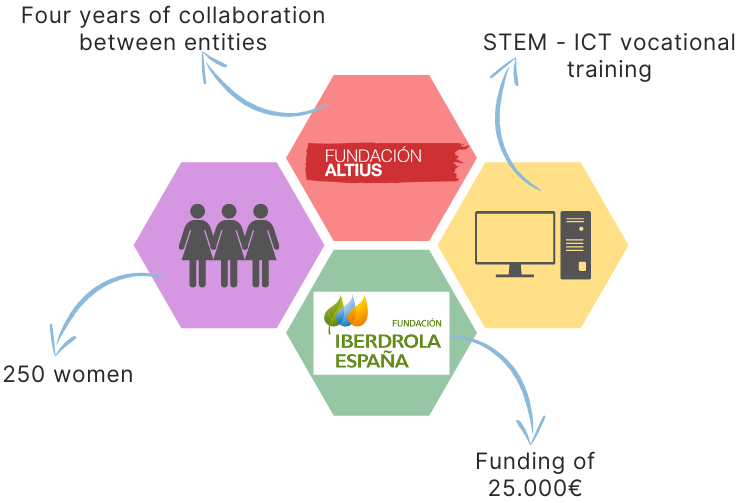 Fundación Iberdrola España and the Altius Foundation have collaborated in multiple projects over the last 4 years. In this call, the project focuses on supporting women to develop their skills in the field of STEMs – ICT, a sector that is booming and still predominantly male. Through this program, the entity seeks to achieve their socio-labor inclusion.
Project:
High-Performance Teams will be created for a duration of 3 months for young people of all educational levels and from any professional sector, with or without previous experience. The program will also provide personalized and individualized itineraries for all participants as well.
The project is divided into the following stages:
Job orientation by professionals to identify and enhance the professional skills of the participant.
ICT training in the field of cybersecurity, digital skills for the hospitality industry, Cloud Computing, and E-Commerce-digital marketing.
Once the participant has internalized the competencies, she encounters job offers.
Finally, the incorporation into the labor sector. Even if a job is obtained, the accompaniment does not end immediately to ensure adequate adaptation.
Thanks to this collaboration, 250 women between the ages of 18 and 35 from social services and social entities in the Community of Madrid will be able to improve their computer skills and enter the labor market.