Language training
Fundación Iberdrola España organises and finances the English language immersion programme, which trains students in their 3rd and 4th years of state-funded Compulsory Secondary Education. This programme is operated by Interway, a prestigious language course provider.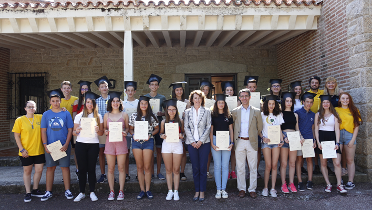 The programme aims to encourage and facilitate participation by students in rural areas, since they have greater difficulties accessing this type of training.
We also provide booster courses in English for primary and secondary school teachers employed by the Extremadura Government.
Academic excellence
Students are selected by the Education Departments in the autonomous regions taking part in the programme in accordance with objective criteria of academic excellence. Fundación Iberdrola España enters into annual collaboration agreements with the following departments:
Department of Education of the Castile and León Government.
Department of Education and Employment of the Extremadura Government.
Department of Education, Research, Culture and Sport of the Valencia Government.